This Salted Cashew Cookies recipe is a perfect dessert for a fall day. It is made with toasted cashews and dipped in dark chocolate. The salt in these cookies adds a nice touch. You can also freeze them in freezer bags for up to 2 months. Once frozen, simply thaw and serve. One cookie contains 129 calories, 7 grams of fat (including 4 grams of saturated fat), 16mg of sodium, and 15g of carbohydrates.
Hi there. We never met but there are a few things I would like to say. First, thank you for being quiet most of the time. On a few occasions you would listen to a country music a bit louder than I prefer, but that's okay, I occasionally watch musicals a little too loud. You see, my living room and kitchen wall backed up to your living room wall. But you live in an efficiency apartment, so your living room is also your kitchen, which is also your bedroom.
I had an AC vent directly above my stove, which went straight into your apartment. Basically, anytime I cooked, I know you could smell it. The neighbor above me used to comment often about the savory and sweet aromas wafting from my apartment, but I am sure you could smell it as if you were 4 feet away (because you technically were only a few feet away through a vent).
I think after 2 years maybe I should have brought you a cookie, or something. You had to deal with our busy catering season last year, when we were preparing pulled pork weekly 
(which takes 2 days)
. I'm sorry for 2 days it smelled like a Dickey's BBQ in your apartment. I'm sorry you had to smell pot roast and tacos. Or cakes, pies and cookies. Or the few times I burnt toast or popcorn. Burnt popcorn is the worst.
But now I have moved away from you and I have another neighbor to torment with my kitchen aromas. But I moved above someone who is really loud. I mean, really, really loud. Sometimes I stomp, but I don't think he can hear me because his music is… so loud. Maybe I should bring him some cookies? I've never tried it, but these would be a good kind to start with.
Your old neighbor behind the wall,
Salted Cashew Cookies with Homemade Dulce de Leche
These delicious cookies are addictive and contain a low sugar content. As with all cashew cookies, the butter should be melted and a quarter cup of maple syrup should be added. You should then divide the dough into two halves and place it on the baking sheet. The dough should be smooth and firm at the edges, with no lumps. If you plan on freezing the cookies, make sure they have a sturdy pan.
Ingredients
2 1/2

cup

Roasted Cashews

2

TBS

Peanut Oil

8

TBS

Butter

softened

3/4

cup

Dark Brown Sugar

1/2

cup

Sugar

1

Egg

1

tsp

Vanilla Extract

2

tsp

Salt

1 2/3

cup

AP Flour

1/2

cup

Roasted Cashews

bits
Instructions
preheat oven to 350 degrees

In a food processor, combine the 2 1/2 cups roasted cashews and peanut oil. Process at least 1 minute, until creamy and combined.

Add the mixture to the bowl of an electric mixer, and add butter and both sugars. Beat until smooth and creamy, and add egg. Mix until combined and add vanilla and salt.

Add the flour in 2 stages and lastly add the cashew bits to the dough.

Roll dough into 36 even sized balls and smooth down with the palm of your hand (I used a spatula to flatten, to achieve the large lines.)

Sprinkle with Fleur de Sel sea salt and bake 8-10 minutes.

Let cookies cool. Spread Dulce de leche on a cookie and top with one other cookie.
Dulce de leche
1 (14oz) can Sweetened Condensed Milk

Remove paper wrapping and submerge can of sweetened condensed milk in boiling water for 3 to 4 hours. Add more water when necessary (cook 3 hours for a softer Dulce de Leche and 4 hours for a more firm Dulce de Leche. I boiled mine for 4 hours).

Let cool completely before opening can.
Notes
These cookies are so great and so balanced. Salty, crunchy, sweet, creamy. I have a few left and I am trying to stretch them as long as I can. I never want to run out. I am on day 3, and they are still as soft as day 1. There are many ways to make homemade Dulce de leche and I chose one of the easiest routes. I may have taken the easy route, but that route is creamy and delicious.
Tips and Tricks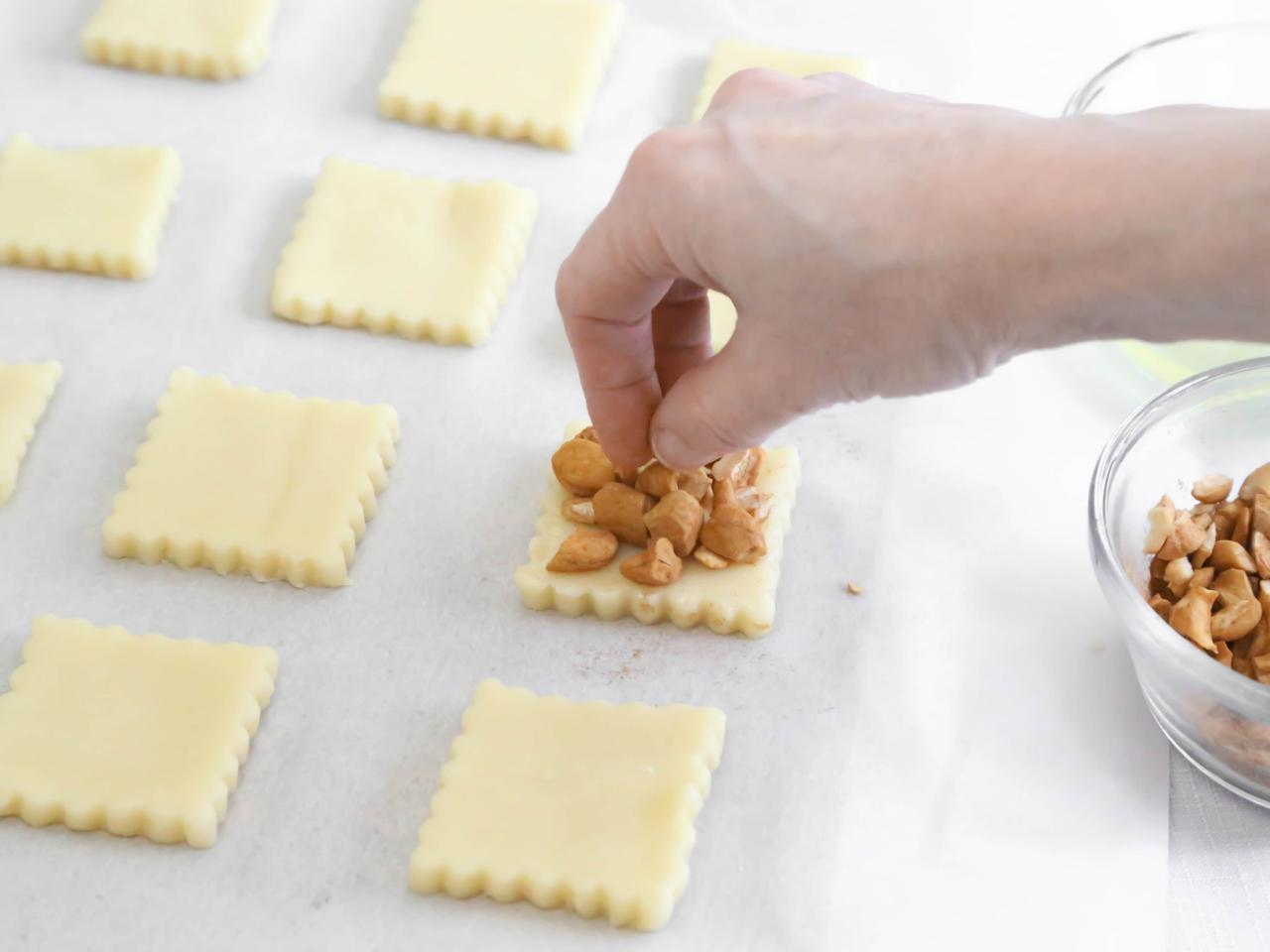 To make these cookies, cream together the butter, icing sugar, vanilla, and salt. Gradually add the flour and baking powder. Mix well. Stir in the cashews and white chocolate morsels. Roll dough into small balls and place on ungreased cookie sheets. Bake for eight to ten minutes, or until just set. Remove to a wire rack to cool. To store cookies, keep them airtight.
Then, sift flour, baking soda, and salt into a large bowl. Add the wet ingredients, and mix until combined. Fold in the cashews and white chocolate morsels. Scoop dough by tablespoons onto a parchment-lined baking sheet, and bake for about 18-20 minutes. They should be crisp on the edges and soft in the center. To eat, they must be stored in an airtight container for a few days.
Prepare a large bowl with a large mixer fitted with an electric mixer. In the bowl, combine melted chocolate, vanilla, and icing sugar. Beat in the egg, and then add the dry ingredients. Incorporate the chocolate pieces and cashews. Scoop out the dough into balls, and roll each ball. Using a small cookie scoop, form them into small rounds. Use a piping bag to make the cookies. Using a piping bag, pipe the dough into balls, and place them 2 inches apart on a baking sheet. Once baked, allow them to cool completely on the pan, and then wrap in parchment paper.
After sifting the flour, add the chocolate, and nuts. After sifting the flour, add vanilla and cashews, and mix thoroughly. Sift the dough. The dough should be smooth and firm. To avoid a soft texture, sift the dough into balls, and shape into squares. If desired, sprinkle with extra chocolate chips. Once cooled, roll the balls into small balls.
To make these cookies, begin by sifting the flour and preparing the dough. Sift in the melted chocolate, and stir in the vanilla extract. Once the dough is smooth and well-blended, roll it into 1-tablespoon-sized balls and bake for 18 to 20 minutes. The cookies should be crispy on the edges, but soft in the middle. For best results, add an extra sprinkle of fleur de sel.
Once the dough is ready, you can store them in the freezer for three to four weeks. These cookies can be stored at room temperature for up to a week, or frozen for up to three or four months. Once they are baked, you can refrigerate them for up to three weeks or freeze them for up to 4 weeks. The butter needs to be soft. You can do this by leaving it out for 30 minutes. Another method is to microwave it for 10 to 15 seconds.
The butter and sugars should be creamed together. Add the vanilla extract and melted chocolate. Sift in the flour and salt. Then add chocolate squares to the dough. The dough should be firm and browned around the edges. After baking, place the cookies on wire racks to cool. Let them cool completely before you serve them to your guests. This recipe makes a wonderful treat. You can also serve it to your family.
You can also add other flavors to the dough. The cookies can be topped with chocolate chips or shredded cheese. These cookies are a treat for any occasion! After chilling, place the cookie dough on an ungreased baking sheet and bake for about nine to 11 minutes. This recipe is delicious! The toasted cashew nuts and chocolate combine in a delicious cookie. The cookies can also be a great healthy snack.