I spent two years of my life working for Starbucks. A year and a half when I was 18/19, and then again for 6 months last year when I was 22. And might I add, I was a damn good barista (and even shift supervisor!)
I know a lot of people are anti Starbucks, but I have nothing but good feelings when I think about my times working there.
The first time I worked for them I had my car broken into. I was 18 at the time and definitely didn't have the money saved to fix theM busted lock, ripped dashboard and add another CD player. The lock was cut out, so I couldn't lock my door at all. Well I informed Starbucks of the situation and on my next paycheck was an additional $1,000. (I had to apply for the money from the CUP Fund). How could I hate the big green giant after that?
I know that different regions have different pastries, but I hope everyone has tried the reduced fat blueberry coffee cake and the iced lemon pound cake (mainly the icing part). Those were my favorites when I worked there. If I opened the store that would be my breakfast, if I closed that would be my dinner, along with coffee, lots and lots of coffee (ever wonder why baristas are so hyper?)
Well… why not combine them?
Blueberry Mini Bundt Cakes with Lemon Glaze
Are you looking for a recipe for Blueberry Mini Bundt Cakes? In this article, you will find everything you need to know, from ingredients to baking time. You'll also learn whether they're best served the day they're baked. If you're wondering whether they're best eaten the day they're baked, then read on! This recipe is sure to become a family favorite!
Ingredients
2 3/4

cups

flour

1 1/2

teaspoons

baking powder

1/4

teaspoon

baking soda

1/4

teaspoon

salt

1

cup

butter

softened

1 3/4

cups

sugar

4

eggs

2

tablespoons

lemon juice

1

teaspoon

vanilla extract

1

cup

buttermilk

1 1/4

cups

frozen blueberries tossed with 1 TBS flour
Lemon Glaze
1 1/2

cups

powdered sugar

3

T

lemon juice

1

T

corn syrup

1

t

lemon zest
Instructions
Whisk together flour, baking powder, baking soda and salt. Set aside.

Beat butter until smooth. Add sugar and beat for 2 – 3 minutes until fluffy. Add eggs one at a time until fully incorporated.

Add lemon juice and vanilla extract.

Alternately add flour mixture and buttermilk until smooth. Then softly fold in the blueberries that are tossed in flour (this will prevent them from sinking to the bottom).

I used a large ice cream scoop to get the same amount in each bundt cake. They can be full and will look like they will overfill during baking, but it kind of 'falls' when cooling.

Bake for 15 – 20 minutes or until a toothpick comes out clean. Let cool before glazing.
Lemon Glaze
Whisk together. If it is too 'loose', add more powdered sugar. Drizzle over cakes.
Notes
These were delicious and perfect for a hot day like today. The glaze was so lemony and sweet and the blueberry literally burst in your mouth. These would be great at a picnic or gathering, paired with some 

lemonade

.
About Blueberry Mini Bundt Cakes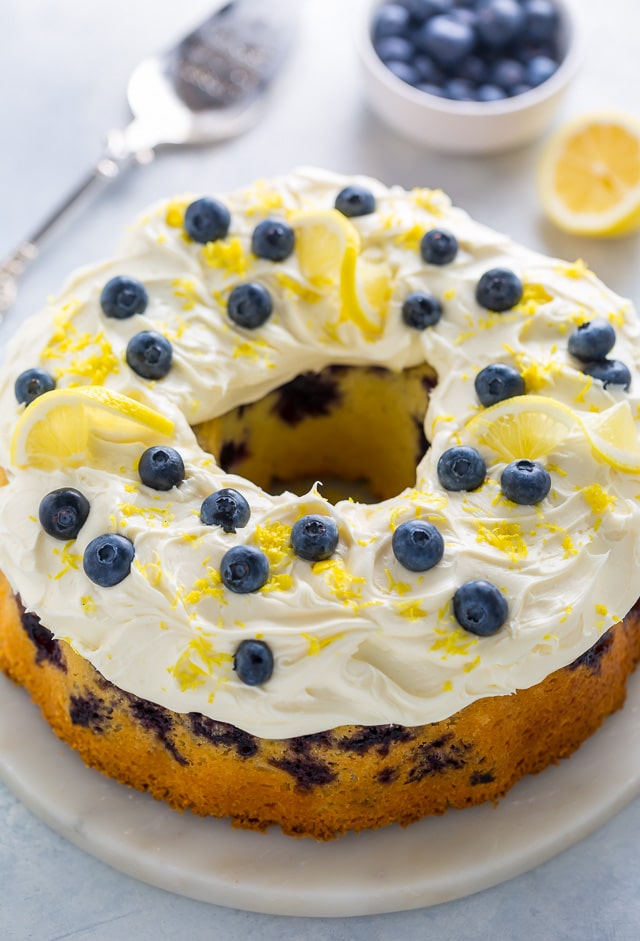 Recipe for Blueberry Mini Bundt Cakes
The ingredients for this delicious cake recipe are simple and easy to find. You will need a 10 or 12-cup Bundt cake pan, a few tablespoons of butter and all-purpose flour. You'll also need some blueberries, a small bowl for mixing the ingredients, and 12 tablespoons of icing sugar. The glaze will be thin or thick, depending on your preference. The final step is to drizzle the glaze over the warm, cooled cakes.
First, prepare an 8-cup Bundt cake pan. Grease with lemon olive oil and set aside. Next, whisk together the eggs and sugar, until they turn a light yellow. Once the mixture is smooth, whisk in the dry ingredients. Add the blueberries and mix until well combined. Bake for twenty to twenty-four minutes, or until a toothpick inserted into the center comes out clean.
Ingredients
This recipe for mini blueberry bundt cakes uses fresh or frozen blueberries. Mix them with a little flour to prevent them from sinking. Fresh berries are likely to be super juicy, so adding a little flour may be necessary to prevent the berries from becoming a gooey mess. Prepare your mini bundt pans with non-stick spray and fill them 3/4 full. Bake these mini cakes for 18 to 20 minutes. A single bundt cake will take 45-50 minutes to bake.
You'll need high-quality ingredients for this recipe. You don't want your cake to be heavy; it should be light and airy. Avoid overmixing the batter, as this will make it tough and rubbery. In addition, folding the blueberries into the batter helps keep them intact. This also helps the small bundt cakes to rise. If you are unsure about baking times, refer to the baking instructions on your mini bundt pan.
Baking times
Generally, mini bundt cakes are best eaten on the day they are made, but they also freeze well. Make sure to ice the cake before freezing it so that it won't crack when thawed. Mini bundt cakes are perfect for households with limited baking resources. For making mini bundt cakes, combine all-purpose flour, baking powder, baking soda, and salt. The batter should be smooth and should be no more than two-thirds full. For even baking, sprinkle some flour on the top of the batter.
To maximise flavour, you should rub lemon zest into the sugar before adding it to the batter. You can also pipe the batter into the bundt cake moulds. This method is quick and mess-free. Make sure to cut a hole big enough for the blueberries to fit in. If you have any trouble with removing the cake from its mould, add a small amount of water to the bottom of the oven to create a little steam.
Best served the day they are baked
Blueberry Mini Bundt Cakes are the perfect dessert for the holidays! This easy, yet elegant dessert is best served on the day it's baked. Make sure you serve them with the prettiest dessert plate you can find. It's important to serve them the day they're baked, to avoid the berries from wilting. Here's how to do it.
Prepare the pan by greasing and flouring the bottom and sides of a 12 cup Bundt cake pan. Butter is essential, as the cake will be soggy if left to cool. If your bundt pan isn't greased or floured, add it to the cake batter. Combine the flour and baking powder together, then stir in the blueberries. The batter should be smooth and shiny.
History of Nothing Bundt Cakes
The history of Nothing Bundt Cakes goes back to home kitchens in Las Vegas. Since the company began, it has grown to more than two hundred locations nationwide. Today, Nothing Bundt Cakes is one of the top-rated dessert chains, and the company has garnered glowing reviews on several websites. With so much praise, it's no wonder that the company is so successful. But how did it get there? The answer is not as complicated as it seems. Franchisees claim that the company's secrets are simple: consistency and quality.
The history of Nothing Bundt Cakes begins in 1997 when founders Debbie Shwetz and Dena Tripp teamed up to create a brand that would offer their customers the best cakes in the industry without compromising the quality of the ingredients. Now, they have grown to over 400 locations nationwide. Despite their success, the company has also struggled financially. In 2017, they raised over $5 million for the Cannonball Kids' Cancer foundation.
Variations of blueberry glaze
The icing used to top blueberry mini bundt cakes can vary greatly. You can use more or less blueberry juice and icing sugar for a thicker glaze. If you prefer a lighter glaze, you can use milk or yoghurt. Either way, the blueberry glaze will be light and drippy. To serve, drizzle the glaze over the cake before serving.
For a less dense batter, you can use frozen blueberries. Just make sure that you do not stir them as they will break down and turn your cake a pale blue. Divide the batter between five mini Bundt pan molds and fill each one only two-thirds full. Spread the batter using an offset spatula to ensure that the blueberries are evenly distributed. Let cool completely before serving.